It's January. It's cold, dark and wet. We're casting our minds back to this time last year when we huddled by the banks of the Sankey Canal to witness the opening of Where Things Are Different
Where Things Are Different - a large scale outdoor photography installation made by artist Stephen King and workers from St Helens industrial past.
We asked Stephen King about the stories behind these visual stories.
Fun Fact: St Helens MP Marie Rimmer was not only the source of the anecdotes told by this first beautiful, poignant image, but the model in it!
A dynasty in glass, residing in unity, celebrating collectively. Hearing the gathering and the roar the young girl watched the crescendo of the allied effort to protect the woodpile. Doors bubbled under the intensity and panes cracked in their frames with the proximity. Never any trouble.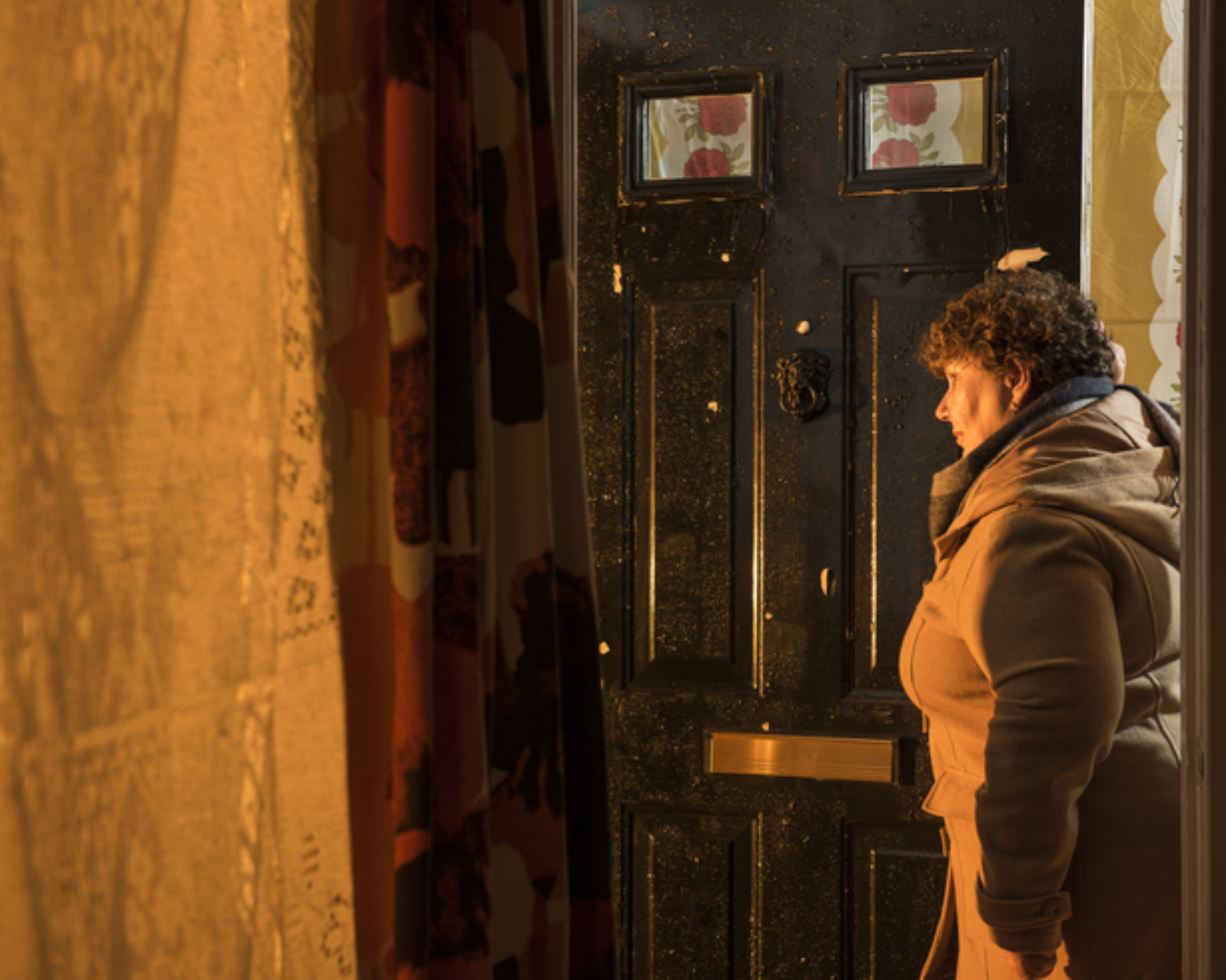 "Marie was actually the first person I sat down with to discuss the material for the project. We were in the Beechams building for what was supposed to be just an informal introduction. However, Marie is a font of experience and as we got stuck into a long conversation (a few hours!) she painted me a vivid picture of what it was like being part of a large Irish family in a community of Pilkingtons workers. Marie fired so may anecdotes at me I was overwhelmed. Some were poignant, some tragic and mostly hilarious. I came away from that meeting appreciating her sense of her contentment and belief in the solidarity of the community she had grown up in. Not only the strength of family and extended family that you called 'Aunty' and 'Uncle', but even wider than that - a sense of how community drives her to this day."

"This photograph was made with the aim of encapsulating this sense of confidence in community. I based it around a memory Marie has of herself as very young girl going along to huge community bonfires. Every few streets along, neighbours would build their own woodpile and guard it around the clock until it was lit. The conditions were so cramped and fires so large that the paint on the doors would bubble and glass would crack in its frames from time to time. She would happily stand in the doorway watching this event unfold. As she revisited this memory, Marie recalled there was never was never a police presence - events always unfolded peacefully and without trouble."
It took me a day and a half to paint the door and then try to burn and bubble it with a lukewarm blow torch! You can't really see it so well, but when I look at this now I'm at least pleased at least I know that this finer detail is there... somewhere!"
Singers, comedians, strippers, magicians, you name it… club land was a career path for some. Barlow turned up, 17 years old in a little dickie bow and a smart shirt… nice lad, couldn't sing to save his life though, so far off pitch it was painful.
A guy swallowed things and then regurgitated them in a different order and finished off with the snooker balls. He'd just swallow them down.
"what order do you want me to bring them back up in?"
Roy Rivers adapted his turn for clubland on this unicycle,
"what's the round then?"
"clear the path"
His tray filled with beer… he went for hours, he never spilled a drip.
"We hosted some amazing get-togethers during the research period of this project," explains Stephen. "And some of the richest tales that emerged were from the people who attended, worked and performed in the Labour clubs in the St Helens area. We would just sit with pots of tea and plates full of biscuits and the stories would fly across the table for hours. The random array of acts that did turns and the quirks of the people who let-loose in those places after a hard day's work… just beautifully genuine. These clubs bred a whole era of entertainers who went on to be household names - Gary Barlow being one! Places where artists cut their teeth in front of a crowd. An audience would tell it how it is but at the same time support them as 'one of their own'. This image is an amalgamation of many of these characters and stories. A creation where several personas, experiences and tall-tales crash together to produce a nowhere place, based on something, a passing reflection of recollection.
"First of all we needed a location for the shoot and the good people at Windle Labour Club kindly allowed us to use their bar for an afternoon… but then there was the unicyclist. We appealed on Facebook, Twitter and passed the word around that we needed a unicyclist, a taller order than initially imagined - especially once we explained what was being asked of them! Eventually we found the amazing Ryan Carruthers from The Circus House who was so talented, understanding and patient. He not only balanced on the spot in an ill fitted suit (on a unicycle) but also put up with these pool balls bouncing off his head, as we tried to fix the lighting so that the balls would be appear to be frozen in mid-air without creating shadows. Finding a unicyclist was so difficult that it put the shoot right back to the very last day possible. It meant that some of these brilliant participants / actors were called in literally minutes before this photograph was made so they really saved the whole thing. I'm glad they all liked apple juice as the beer taps were off!"
Within the shadow of the Ravenhead Works, a boy and his friends would play in the claypits off Elm Road. The site of long-gone industries and the dumping ground of the recent, the clay would often give up its wealth of treasures. Gas masks dumped after the war, yellow pottery lemon curd pots from the original Clay and Brick Works and glass marbles - a bi-product from the quenching of spillage in plate glass production.
I met with local historian Mike Skidmore whilst researching Where Things Are Different and was completely bowled-over by the depth of this man's local knowledge. He had a story about everything. Every place, every business, every building - and the facts to back it up. We talked for hours about the industrial histories of St Helens and the wider social implications of the towns ups and downs over the years. By the end of it I felt weighed down by the torrent of history I'd heard. However it was a personal story, just a passing anecdote, that stayed with me after our meeting. Mike told me about a place he and his friends would play as a young boy - just off Elm Road. They would go there to dig in the clay, and more often than not the land would reward them with mementos of its industrial past: glass marbles, yellow clay pots and, if you were really lucky, a gas mask! A few weeks later I arranged to visit the area with Mike, we walked for a long while as he re-acquainted himself with the landscape. While we walked he told me how these boyhood treasures came to be buried.
"In the 1800s, the site had been a clay pit with a brickworks. Later Midland Pottery used it for the making of stoneware jam jars for Hartley's Jam but mainly lemon curd pots. It was these deep yellow pots (sometimes fully intact) that would pop-up now and again. From the 1930s the site was used as a dumping ground and it was here that the detritus from many many years of the glass industry was sent. In the early plate-glass making process the molten glass would be squashed between two surfaces and some wastage would spill out from the sides, this would land into a bath of water. As the molten glass hit the cold water it would form natural spheres - marbles! Time passed and the glass industry grew so much in St Helens that the workforce encompassed most of the town, an industry in great need throughout the war years and hence a massive number of gas-masks. After the war these were dumped with the same 20th century abandon as all the other industrial waste."
"It was lovely to walk this landscape with Mike and hear the full details behind the anecdote I'd heard just a few weeks earlier. As we trod the ground, it struck me how these details were being revealed to me like the earth had given up its treasures to the that boy fifty years earlier."

Lady Pilkington - the wife of Harry - 'bore the brunt of the workers' anger'. She made an unannounced appearance. Blue fitted coat, nonchalantly strolling unnoticed for half an hour, but as soon as the gathering began to disperse, she was spotted and drama began to unfold… Rank and file swarmed.
"would your old man work for £12 a week?"
Mavis (Pilkington) calmly exited through the crowd.
"A key thing that drew me to the idea of basing this work around the shared spoken word was how, with time, fragments of anecdotes can come together to become a kind of shared fact. This image is based on a tale I'd heard third-hand. I did see the story printed in a newspaper - many years later - but there was no shred of evidence that the event actually happened. No one I spoke to had witnessed it. Anyone who told or wrote the story 'knew someone who knew someone' who was there…"
"I wanted to shoot the image in this specific location. Somewhere just recognisable enough to be loosely placed but at the same time ambiguous. It took some time to negotiate shooting there and the time slot we were allotted was quite rigid. It didn't give us much room for manoeuver.... I wanted to light the whole set (a very large area). I wanted it to look filmic, but not too professional. Kind of B Movie… in honour of the nature of the story - hence Lady Pilkington's ill-fitting wig and coat. With around 30 participants, costumes, lighting to consider it was pretty tense. Then just before everyone arrived to the set it began to rain, like torrential rain. As we ran around wrapping all the lighting kit up in plastic bags - all our lovely participants arrived all nice and dry beneath their umbrellas. I had to break it to them all that we needed to do this without them and - bless them - they just put the brollies to the side and got stuck in. We shot a few options (some pretty out-there ideas involving pistols and smoke bombs!). I was conscious not to keep them all there in the rain but by the time we had finished it was dark and everyone was soaked… they must have been thinking what the hell had they got themselves into!"
As a little girl, the truck passed-by with all these convicts, I was so upset. Then another passed with devils on. Dad would say "If you do that again" the Devil would come and get me. It stays in your mind... A man carried a ball, running a distance and standing on it statue still until the procession caught up and then off again. Communities came together with ideas and elements of where you worked for carnivals and street processions. If they had a talent, or even just a bit of a talent, anyone could join in.

Along with the sports and entertainment clubs, it was the carnivals and street processions that brought people together and forged memories. These events happened often. Each street or workplace or organisation would prepare and bring to life its own themed float. The experience would captivate participants and onlookers alike.
Enid recalled the delight she felt as a child watching these processions pass her house. She remembered the diversity of talent and the theatrical exuberance of the groups. One stood out in particular though. Seventy years later she still didn't understand the significance but Enid was affected and had suffered nightmares about it....
Again as it had been in previous images, several elements from different stories and recollections came together to make this piece. A lot of the elements came along by sheer luck. For example, I knew I needed some kind of vehicle so - naturally - contacted the the good people at The North West Museum of Road Transport in St Helens. They had just come by a flat-bed truck and had begun renovating it. It was perfect. But not only did it look perfect, it had the perfect story. The museum team had just found out that this actual truck was last used in the procession / carnival for the 100 year celebration of St Helens! This truck had just about survived the last 50 years and was now being lovingly resurrected to take part in the St Helens 150th anniversary events.
The truck was just about ready in time for the shoot. Bright red and looking beautiful. However, the weather was terrible, it was freezing cold and the fog rolled in that morning. We questioned whether or not this was going to be possible. All the participants / actors arrived and I had to break it to them that I wanted them to ditch their coats and change into thin t-shirts. Thankfully they were all supportive. After a little unofficial road blocking I had to work really quickly lighting the street to counteract the effects of the fog and to make sure that no one got too cold…
Not forgetting Owen - the man who balanced on the ball. He must have had strangest days work and never once questioned any of it. He was wonderful. He arrived that morning without really knowing what would actually be happening. But without hesitation he got his ball out the back of his van, whipped his clothes off and got on with it. Brilliant!
Stephen and the crew shot this photo in the depths of December 2017 at the site of the long-gone Beechams workers' recreation ground. After finding it they had to gain access from the football club that now uses the site.

Their goal was to locate site of the long forgotten Pavilion - which burned down in the early 1980s. Cue lots of digging through undergrowth and piles of rubbish.... But it paid off - as they eventually came across the remnants of the old dance floor! ⠀

Stephen, the cast and crew returned a few days later at dusk to make the photograph - a fraught process with fifteen minutes of light left in the sky. ⠀

As Stephen tells it: "The participants who acted this out were just amazing and so patient as I ran around moving flashes, letting off smoke bombs and swearing and kicking things as I got further and further away from what I imagined the image would be. As with all these things we were gifted at the last opportunity - just as it was getting too dark to continue we got it! Thank you for not just going home as you should have!" This photograph amalgamates the stories of one man and his friends' 30-year career at Beechams. It explores the diverse roles that he bravely took on. From making pills from its original black tar-like Aloe, coating them with yellow powder and then building a sports ground! ⠀
"The basis on which the idea of Where Things Are Different was built was from a concept termed Heterotopias. It is a concept elaborated by philosopher Michel Foucault to describe certain cultural, institutional and discursive spaces that are somehow 'other': disturbing, intense, contradictory or transforming. Heterotopias are worlds within worlds, mirroring and yet upsetting what is outside... These notions were never starker than when reflected upon the mining community.
Although the industry and its workforces where displaced, dismantled and sidelined, the communities are still present and very much lucid about their histories.
Still to this day high tensions and passions are played out in equal measure... And this was the strongest underpinning theme that bobbled beneath the surface of our good humoured discussions. A centuries-old community built upon hard work, camaraderie and solidarity had been to war - and sometimes with its self. They had clung on, weathered the storm and could now stand on weary legs and peer back, still together - but different."