Lookout is an award-winning piece of socially engaged performance developed by artists Andy Field and Beckie Darlington that invites an adult audience to meet with a group of local children somewhere high-up overlooking a town or city to participate in a one-to-one encounter where together they look out at the view and imagine how the place they see before them will be different, many years in the future.
Lookout has toured the world from Sao Paulo to St Helens and from Shanghai to Stoke. The St Helens version of Lookout was created with children from Broad Oak Community Primary School. Together with Andy and Beckie the children developed their performances through a series of workshops, followed by rehearsals. These workshops saw the children roleplaying, story writing, drawing, designing and problem solving both individually and in groups. Through doing so they explored subjects including urban planning, architecture, ecology, technology and politics.
Illustrator Rhi Moxon designed a postcard depicting what the future in St Helens would look like if the children's predictions came true. Green space and an abundance of leisure opportunities are the focus of this utopia. The image you see depicts the town centre in 2122 where a friendly robot potters about offering its company to the lonely, juice bars have replaced pubs, and five decker buses with slides provide transport for the area's ever growing population. And there are free, beautiful homes for everyone as well as places where you can go to rest and access mental health support.
The top floor of Century House in St Helens town centre was the site chosen to host their performance. Taking place over two days (20th - 21st May 2022), the children delivered over ninety performances to a sell out audience which included the Mayor of St Helens, local councillors and first time visitors who'd travelled in especially for Lookout!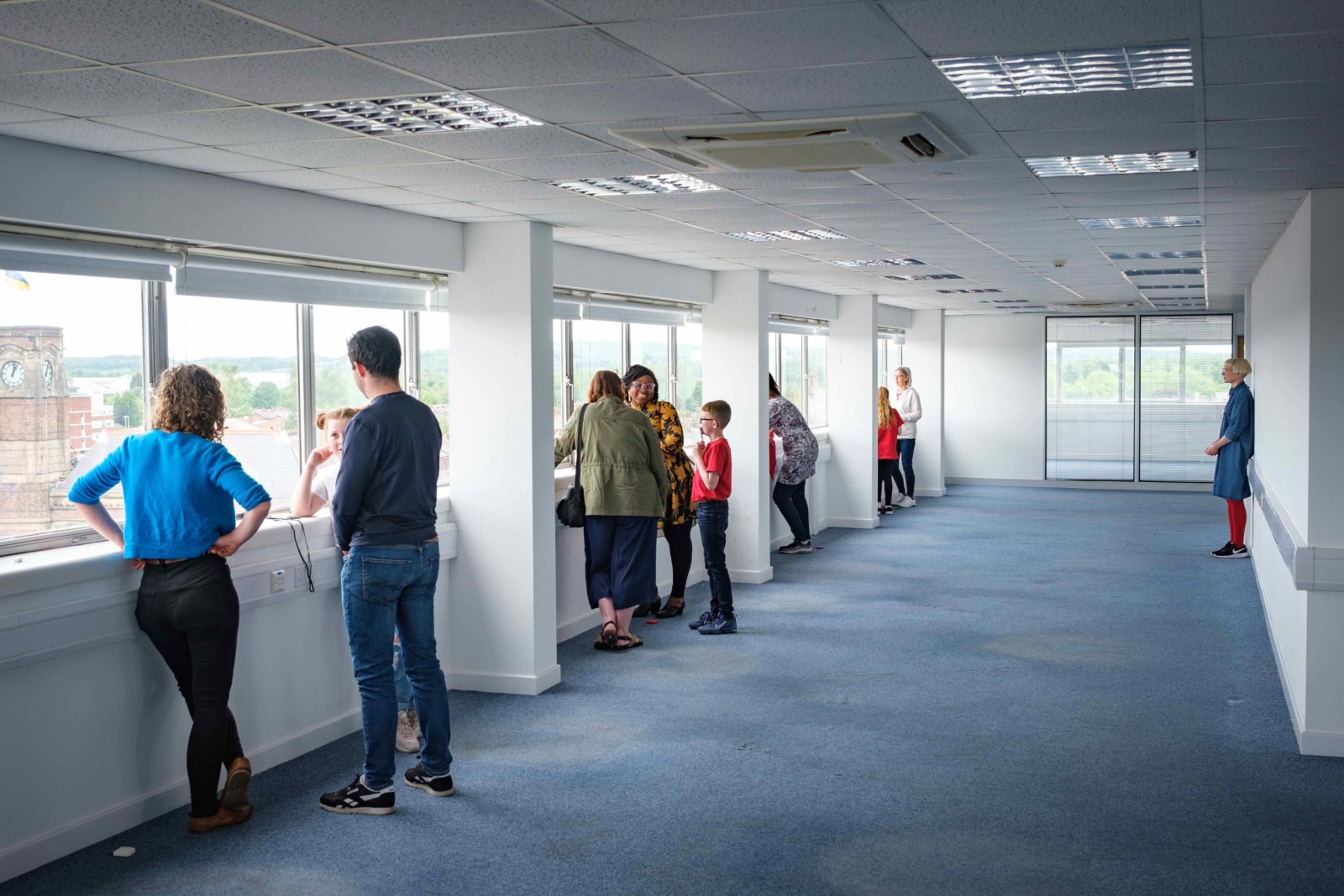 "What a wonderful opportunity I have been given today to listen to the views of our children about their town and how they see St Helens growing over the next 100 years. Climate change, peace and happiness is paramount to the change they want to see." - Cllr Sue Murphy (Mayor of St Helens)
"What a fabulous young person Xanthe was, it was wonderful to hear their thoughts on how the future would look. It was also nice to hear the similarities between the children's vision and my own hopes for the future." - Sarah Preston, St Helens resident

"A truly amazing experience, very emotional, funny and thought provoking. Vinny was fantastic and is a great ambassador for his school and for St Helens" - Gary Maddock, Town Centre Manager
"I really enjoyed Lookout and talking to Emily about all her ideas for making St Helens a better place to live. We talked about the places we enjoy going, and the things that worry us. I was so impressed with how confident the children were when talking to the people that attended. We have lots of change coming to St Helens in the next few years and we need to make sure these changes work for young people - with safe spaces for all generations, lots of trees and art. A place to be proud of." - Cllr Kate Groucutt
Writer and theatre maker Josh Coates wrote a wonderful account of his Lookout experience for Corridor 8:
"These quotidian streets are transformed into a canvas for a kind of imagining that I did when I was young. I miss that."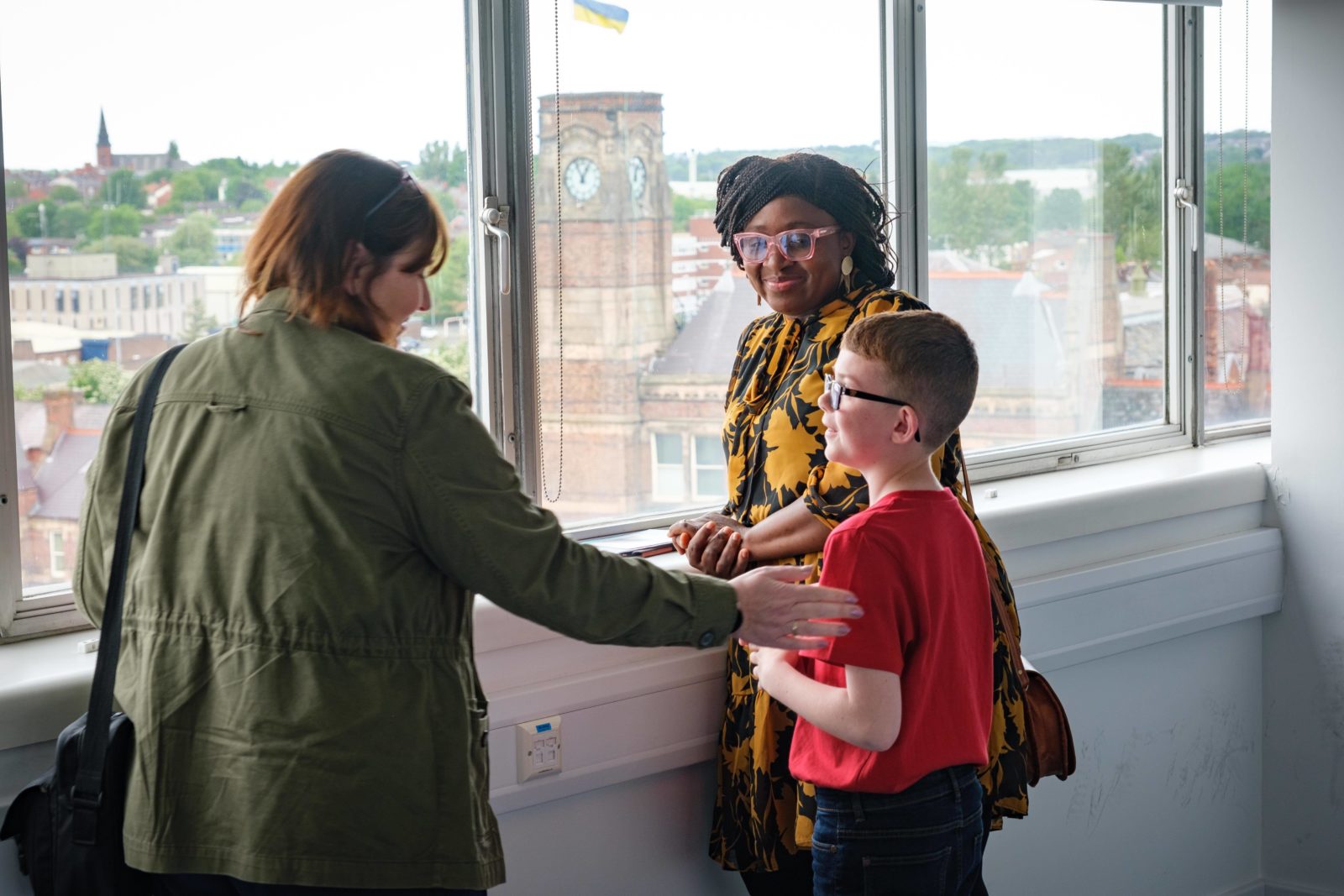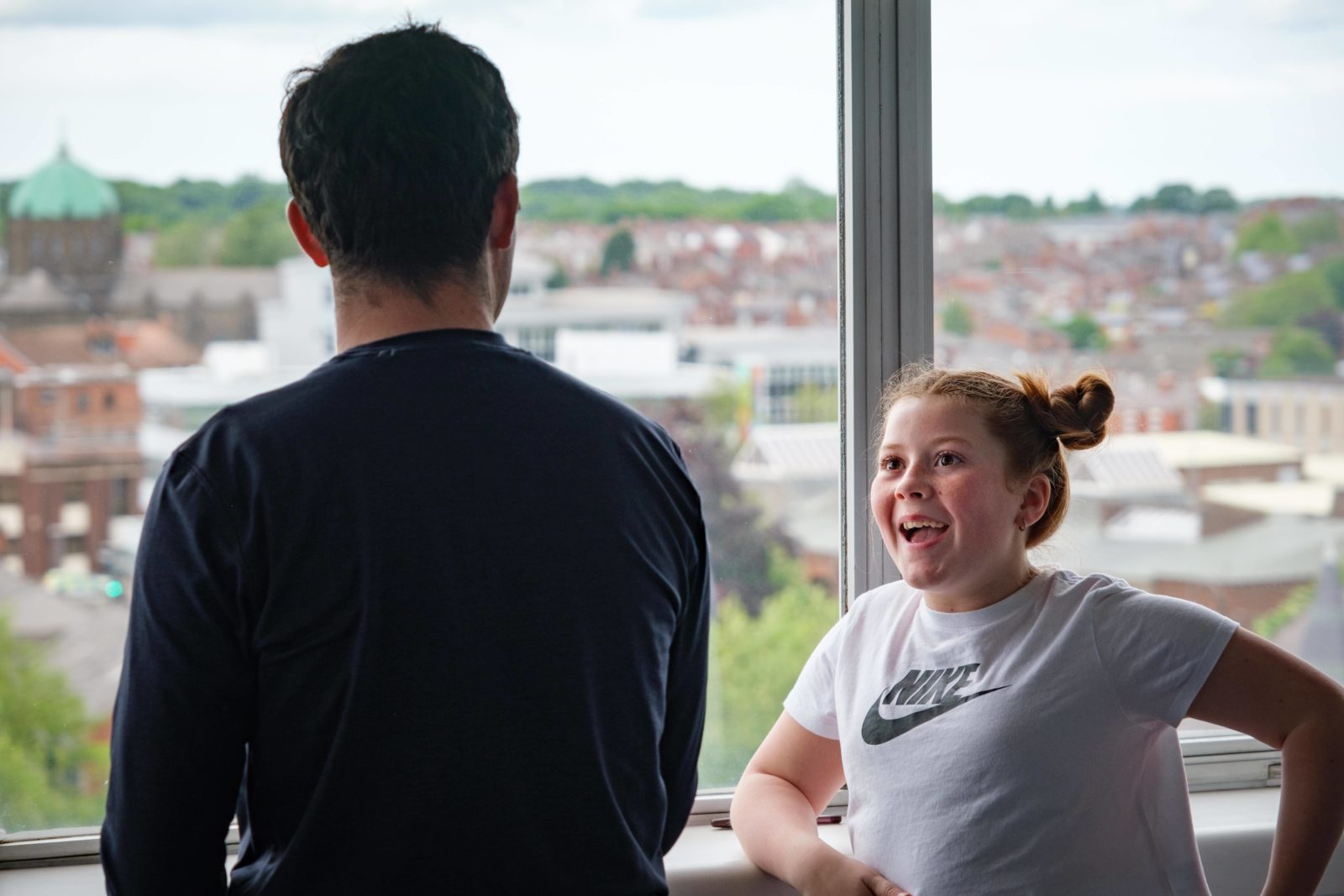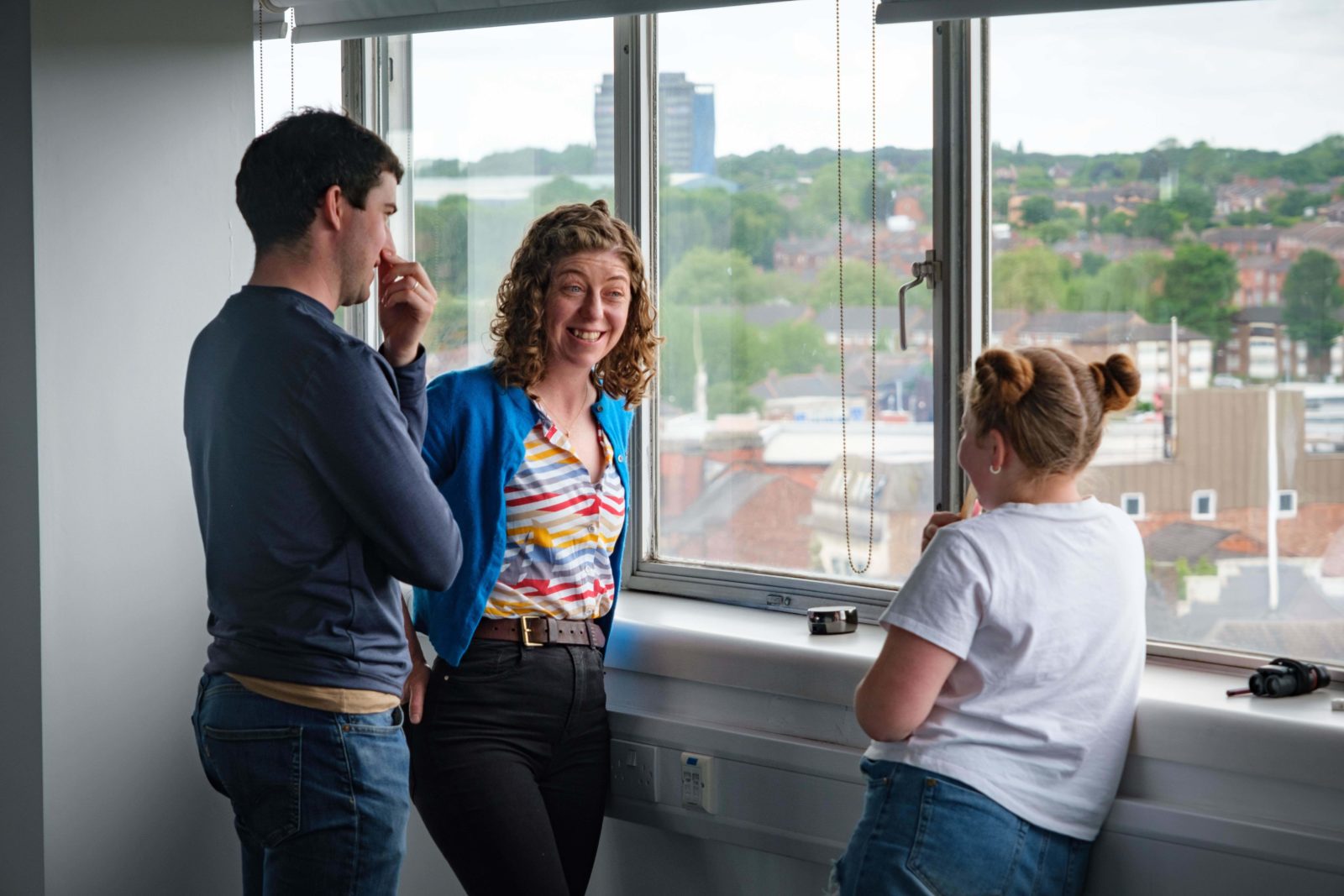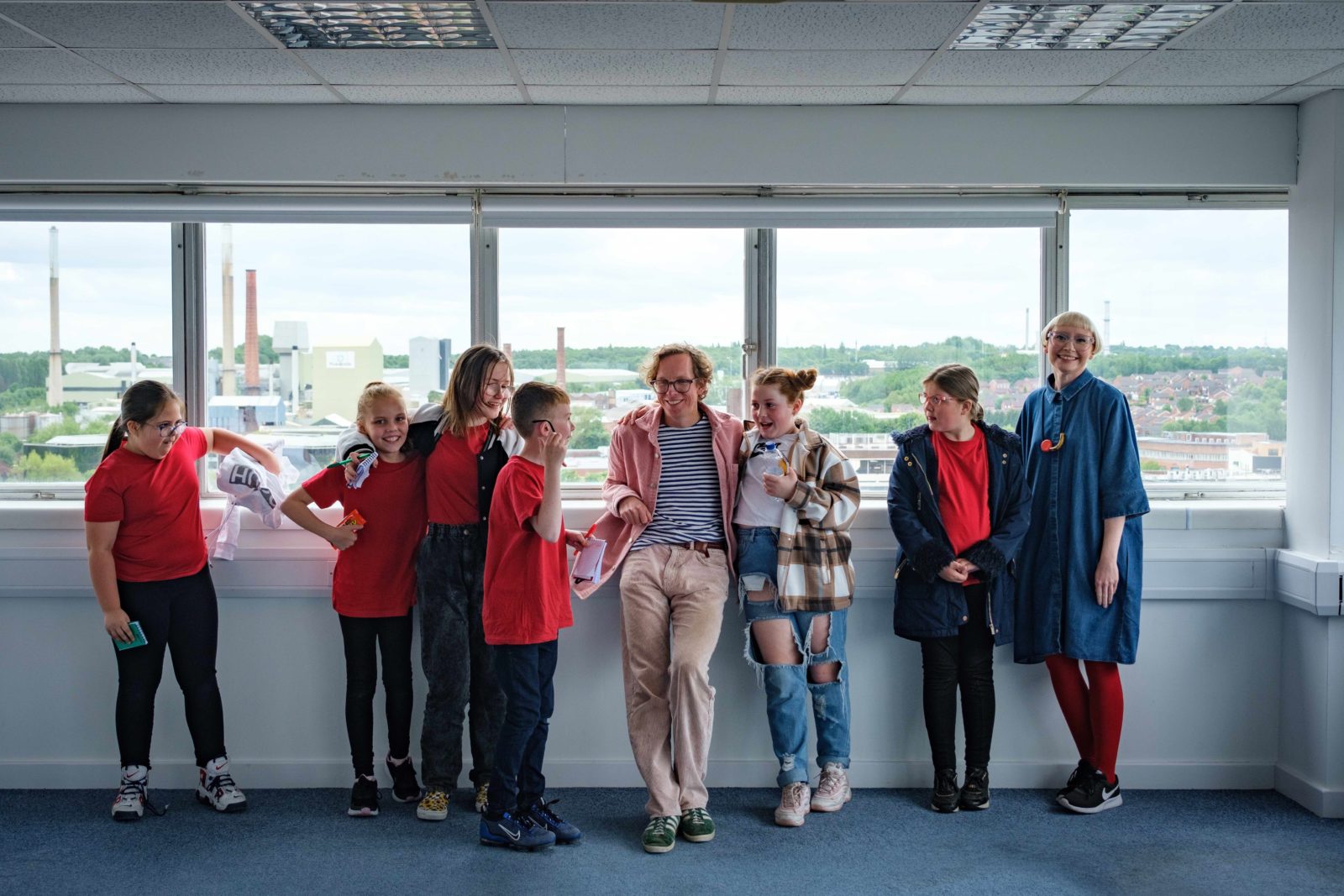 On Wednesday 25th May we held a gathering at The Friends Meeting House (St Helens' oldest building) which was open to all those who had attended a Lookout performance. This gathering was a chance for the children who took part in Lookout St Helens to share their experiences of the show and answer questions, and where civic leaders and audience members had a chance to respond to the children's visions of the future shared during the performances.
Lookout St Helens is one of five versions of the project that have been made in England since COVID-19. This series of Lookouts was conceived as a way to provide children from across the country an opportunity to participate in the big conversations taking place in the aftermath of the pandemic and consider how our towns and cities might be different in the future.
The five locations for this series of Lookout are St Helens, Crawley, Hackney, Newcastle-under-Lyme and Stoke-on-Trent. Each iteration has been documented by filmmaker Tamsin Curry. The aim for this documentary is that it will become a film which links up the children of each region, enabling them to see where and how their ideas were similar and different.
Andy and Beckie have also made a version of Lookout with children from Dublin. Produced by the Ark Theatre and Dublin Fringe, performances will take place somewhere high up in the city on 17th and 18th September.
We would like to thank:
Mrs Hignett, Ms Rodaway, Miss Mason, Miss Monks, Miss Shepherd and all staff at Broad Oak Community Primary School.
Andrew, Emily, Emily, Jake, Jason, Kiah, Leon, Lewis, Lily, Lily, Olivia, Skyla, Summer, Summer, Vinny, Xanthe.
Lisa, Eric and Alan at Hurtwood Holdings for supporting Lookout to take place at Century House and for showing us those spectacular views.
Grant and the volunteers at Former Forces Support
Mike and the Friends Meeting House
Cath Brooks, Mark Burgess, Gary Maddock, Cllr Bisi Osundeko and Cllr Kate Groucutt.
Everyone who meet with Andy and Beckie during the Residency Week.
And finally, all who attended Lookout.