"We want to learn from each other and from the things we've experienced."
The Faculty North was an artist development programme for creative practitioners working in relation to the north of England. Pivoting around a series of panel discussions, The Faculty offered its cohort of 35 the opportunity to develop their knowledge of socially engaged art's historical contexts and ethics. The programme also created a space for honing practical skills and professional self care.
The second iteration of The Faculty (the first took place in 2016) was, in many respects, defined by Lockdown. Rather than meeting in person, the cohort came together online, to watch a series of live panel discussions chaired by Kerry Morrison and Chrissie Tiller, with opportunity share - and reflect upon - ideas afterwards. Similar to the set up of other self-organised schools, such as Rabbits Road Press, online platforms (WhatsApp, Email and Miro) enabled participants to meet, exchange thoughts and toss references back and forth to inform the programme.
The highly accomplished line-up of artist-panelists included: Hassan Mahamdallie, Isabel Lima, Barby Asante, Paul Hartley, Fox Irving, Anne Marie Culhane, Sheila Ghelani, RM Sanchez-Camus, Ocean Farini, Rosalie Schweiker, Stella Barnes, Amy Pennington, Jessica El Mal, Gemma Nash and Chris Davies.
Each person brought something different to the ongoing conversation, adding up to an overall snapshot of socially engaged art at the present time. However, the picture they presented was far from straightforward, with many artists finding the language of 'socially engaged art' insufficient to describe the close collaborative work they do.

"All participants had to give three-minute presentations on their practices (over Zoom). They were my favourite sessions. It was so good to actually hear from other people - everyone who had been so anonymised before. After that it felt a bit more like I was part of the group."
With an impressive collective CV of exhibitions, commissions and positions in arts organisations across the country, the Faculty 2021 participants have an extensive group knowledge. Many began the programme unsure how to define 'socially engaged art'. Then, as we came together, there was the collective realisation we had all walked similar paths. We'd all been reading similar stuff, heard the same names and, most importantly, had huge overlap in our practices. In a climate where artists are often freelance working on short term projects, there's a hunger for the realisation you're not alone.

During moments of social distancing and lockdowns, when in-person contact was not possible, collaborative ways of working suffered. This situation left many socially engaged artists wondering how to continue the practices they'd refined over years.
Rather than labouring over the impossible (irl contact), the Faculty focused on thinking through the theory of socially engaged art, and created a space to work through our challenges practically. Participants were paid a healthy stipend (£1200) to take part in The Faculty, which enabled us to grant ourselves the permission to reflect. Thoughts of production could be put aside for the time being.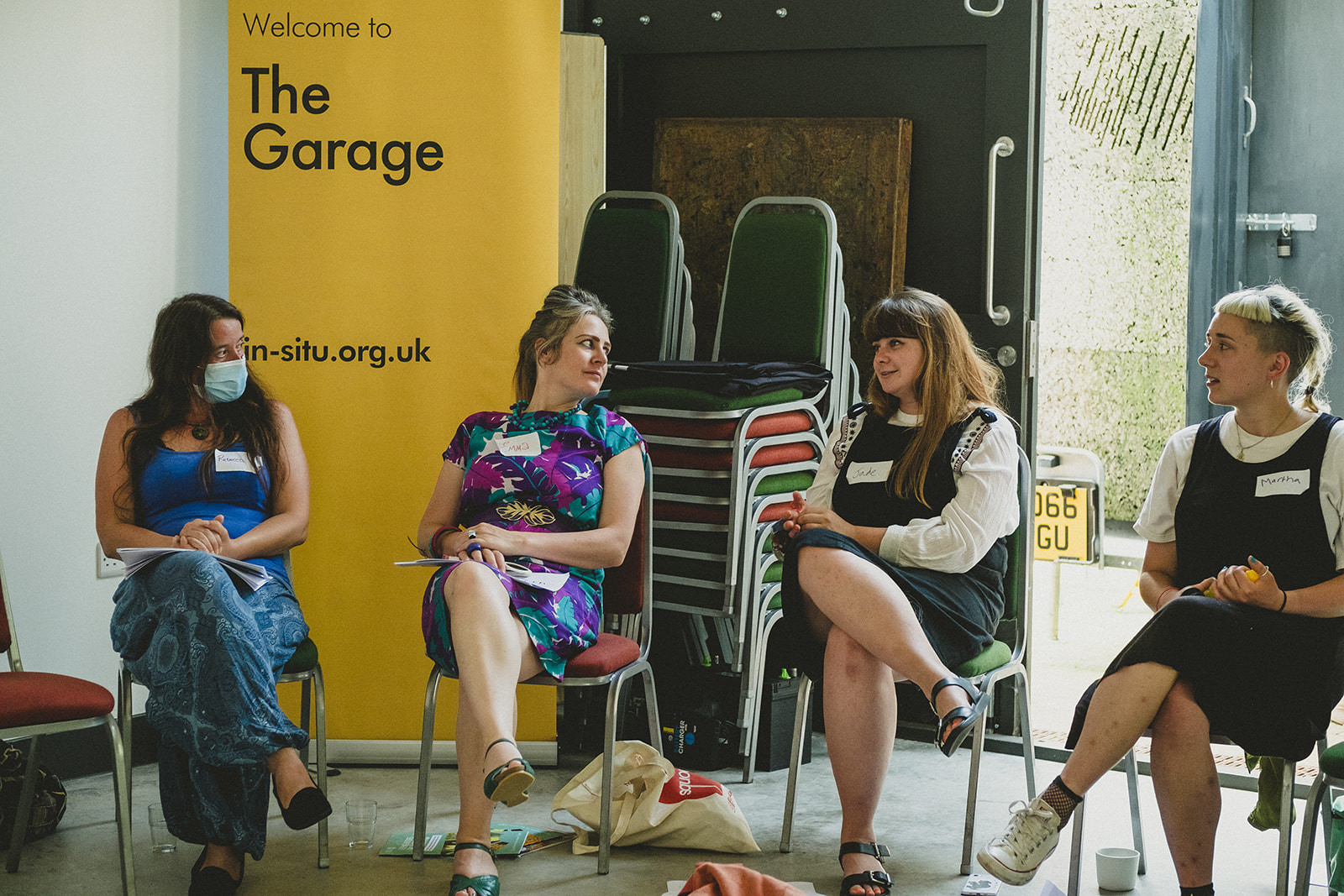 Many artist residency and development programmes require its participants to produce something which can then be marketed; pictured for the organisation's website, and spun round social media. This push to produce often leads artists into precarious 'portfolio careers' as they jump from one project to the next. On top of this, due to the highly competitive nature of applying for commissions, the time you spend writing an application is most likely time lost.
The Faculty bucked this trend, and thus was able to invest in the long-term growth of artists. Bringing us together in this way fostered a collective approach to learning within an atmosphere of enthusiasm.
This is the slow work of laying cairns and walking desire paths into the ground, allowing possibilities to unfold gently. It is not the relentless bulldozing of sparkling highways with billboards and signposts for fast progression and loud achievement (aka long CVs of many 'opportunities' completed).

"The best thing about Faculty has been meeting up with people. I bumped into Flora in town and she was pleased that she felt like she knew someone in the city. I bought a copy of Asylum that had Rik's collage on the front and I emailed him about it. Meeting up with a couple of people in the park, I realised that these people knew things that I don't know and I could ask them how they do it. Hearing those stories in my own time, that's been maybe the best thing, but I've had to make that happen."
With studios closed, degree shows cancelled and private views nonexistent, artists have had few opportunities to share and develop their work. Groups of artists are increasingly turning their eyes away from larger galleries and towards each other to self-organise.
Longer-term investment from the arts is necessary to ensure that artists remain free to learn, practice and walk side-by-side. As a model for this, The Faculty is a good place to start.
- This text is informed by an ongoing series of conversations between Chris Alton, Grace Collins, James McColl and Kitty McKay. Each has lived experience working with artist development programmes such as School of the Damned, Collective Studio and Syllabus.

- Grace Collins is an artist and writer who researches how people work together. They're currently a member of School of the Damned, Coordinator of Short Supply, Associate to With-you and Writer in Residence at Heart of Glass.