Last week The Book of St Helens won the Liverpool City Region Culture and Creativity Impact Award for Improving Education!
Part of the Metro Mayor's Percent for Culture initiative, Liverpool City Region Culture & Creativity Awards recognise the value and huge contribution that the cultural and creative sector bring to the Liverpool City Region making it one of the most vibrant and exciting places to live, work, study in, visit or do business in.

The Improving Education award celebrates the power and value of culture and creativity to achieve positive outcomes in education and learning. Other finalists were MANDELA8 for the Roots & Wings Programme and Merseyside Music Education Hubs Alliance.

From fun facts and the sights to see, to sharing hopes and dreams for the future, The Book of St Helens is a must-read guidebook created by 146 primary school pupils in St Helens and artists Andy Field and Beckie Darlington, and commissioned and produced by Heart of Glass.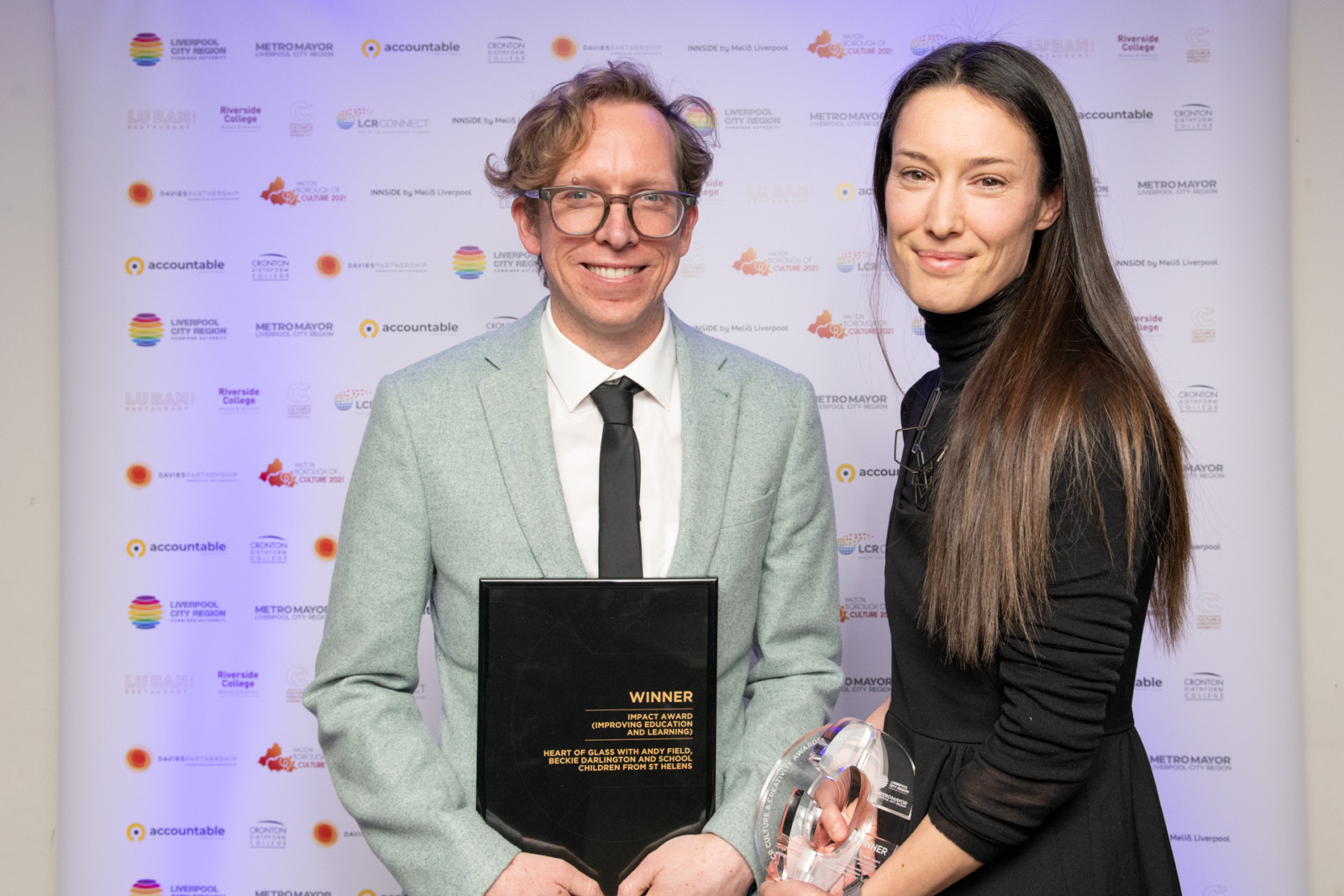 As Kate Houlton, our Children and Young People's Producer (pictured above right with artist Andy Field) says:

"We were thrilled to receive this award on behalf of the children of Ashurst, Rainford C of E and Broad Oak primary schools for all their incredible work with Andy Field and Beckie Darlington on The Book of St Helens. It is such a wonderful feeling to see the children's hard work recognised and talked about across the City Region. We're so excited to be continuing our collaboration with Andy, Beckie and schoolchildren - watch this space!"

Steve Rotheram, Mayor of the Liverpool City Region said:

"Culture plays such an important role in what makes our region great. From community organisations and individual artists to Hollywood stars, we have so much to be proud of.

"A big well done to all of this year's winners. These awards recognise the imagination, inspiration, and innovation – and the immense value that the sector has contributed to our region in the past 12 months and beyond

"The exceptional talents help to enrich all our lives and make our region one of the most vibrant and exciting places to live, work, study, visit, or do business in – and that the Liverpool City Region can rightly claim its place as the UK's cultural capital."

Designed to be read by adults, the 32-page playful publication showcases what life in St Helens is like from the perspective of its children, celebrating the people, places and passions that make the borough great.

Led by artists Andy Field and Beckie Darlington, the Arts Council England and Community Foundation for Merseyside #iwill2019 funded project, saw 146 pupils from Ashurst Primary School, Broad Oak Community Primary School and Rainford C.E. Primary School completed a series of games, questions, and activities about their hometown with their teachers.

Along with designing a new flag, crest, and catchy St Helens Town Anthem, together they wrote about what they love, what they wish could be better and what changes they would make if they were in charge.

A small group of editors from the group then worked directly with Andy and Beckie to bring their hundreds of ideas together. Illustrator Rhi Moxon turned the children's original sketches and ideas into a series of captivating maps and drawings, while New York based designer Will Brady put all the words and pictures together to create the final book.

Two hundred copies of The Book of St Helens were printed and shared with the children and people living and working locally, while a digital edition is available to download now - see below!
Find out more about the project and download your copy below