In the past, Heart of Glass has collaborated with Scottee and the vacuum cleaner (aka artist/activist James Leadbitter) to curate a series of performances, workshops and exhibitions for Take Over Festival. This year was the turn of Manchester-based artist Lowri Evans. Evans refers to herself as 'a natural host', her performance work feeling like a big embrace from a long lost friend – and the work and artists selected for the programme reflect this. Each piece offers a warm, open-armed approach to the festival, whose theme of 'be our guest' seems incredibly fitting. Over two of the three festival weekends I caught these four pieces…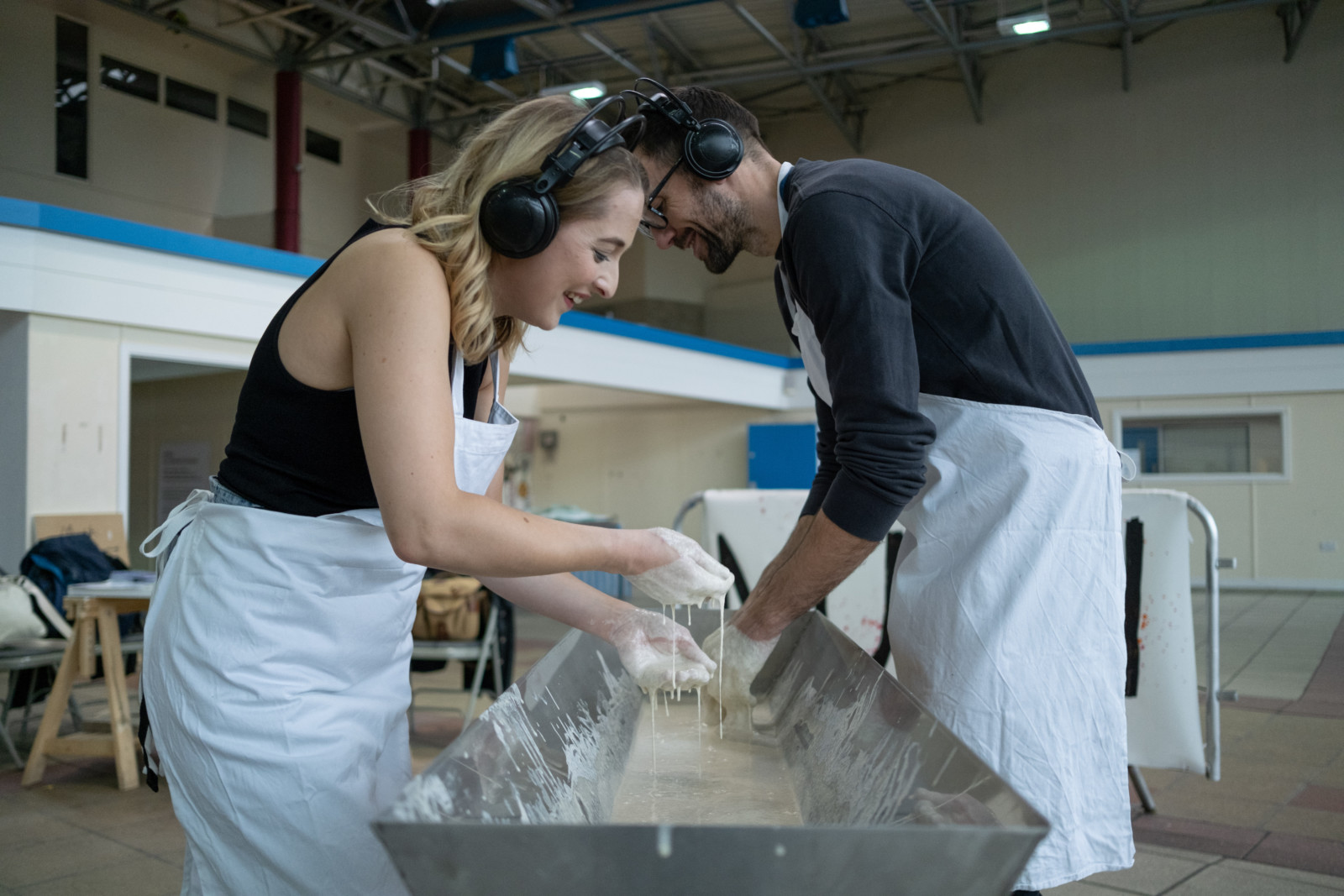 MUSH (2019 – ongoing) by Unfinished Business
Saturday 29th October, St Mary's Market, St Helens
Unfinished Business is a long term collaboration between artist/AD Leo Kay and artist/producer Anna Smith. Together, they create projects with communities across the UK and internationally. MUSH invites participants to plunge their hands into sourdough and listen to a meditative soundtrack detailing the bacterial, interspecies communication occurring in the experience – and continuously – on us, in us and all around us.
A voice is telling me that the person standing across from me has turned into a small bacteria and is travelling through my body.
I've been ill, I still am ill. Over the summer I got diagnosed with an autoimmune disease. The bacteria held in my skin doesn't know how to react to certain things. My mother tells me to take better care. It's weird being thirty and seeing the effects of your health taking a mental toll on your mum. To take care of my mum I have to take care of my bacteria.
I'm thinking about the person across from me, our hands now in a trough that's full of sourdough starter, and what they'd see in my body. Confused bacteria staring at them trying to figure out if they are a threat. The cool grains and water are calming my skin, which is usually inflamed by a bewildered microbiome. It's being taken care of by the gloop my hands are submerged in. Oat baths are supposed to be good for my skin and this feels like an equivalent.
The voice is asking us to consider each other, as we swirl our hands in the sludge in front of us. I wonder if the people standing in front of me can see how nervous I am as I worry about my skin, worry about the worst reaction the bacteria on me could cause. I wonder if they can see the confusion that my bacteria carries.
We're given a jar of sourdough mother at the end of our time together. I have to look after this mother by giving it the good bacteria it needs to fully develop. I think about my mum and our conversations about my skin, needing the good bacteria for my skin to heal. I have to look after mother, and each bacteria, each tiny bacterial molecule is part of that. It's hard to comprehend, it feels like a massive task, but if I give it the attention it deserves, it'll bloom.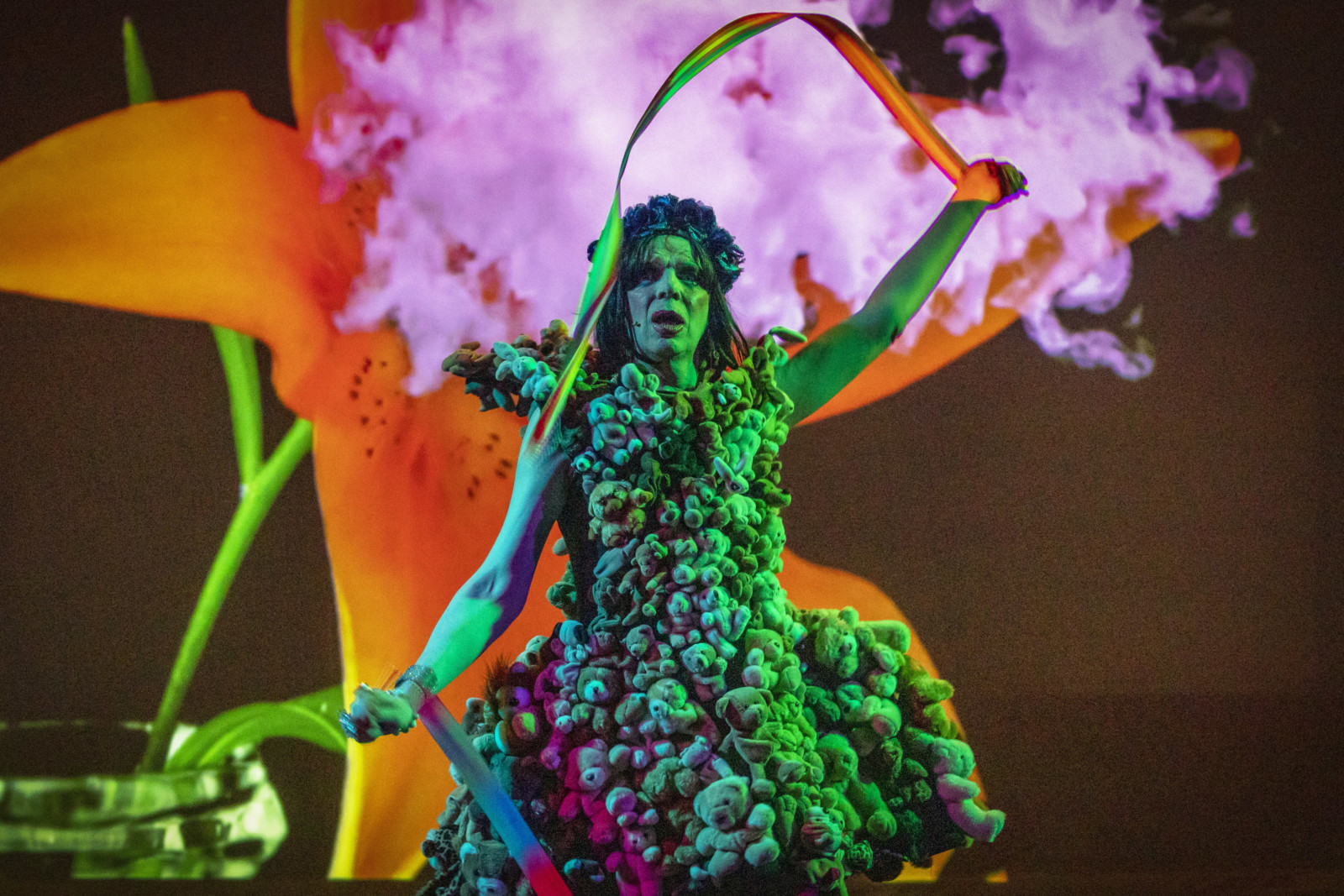 Ten Commandments (2022) by David Hoyle
Saturday 29th October, The Citadel, St Helens
David Hoyle is a performance artist and cabaret maverick whose work is known for combining theatre with lacerating social commentary. This work was presented with support from Homotopia.
I'm so unworthy rings around David Hoyle's head. He leans closer and asks if we can hear that too.
When confronting political turmoil, it's hard to understand what your personal relevance is. Should you be the one with a megaphone in hand? Are you the one who's there early in the morning, building the stage for the demonstrations, or are you standing in the audience, listening intently to things that you agree with? Is having strangers nod in agreement next to you the thing that'll fuel you through darker times? Then, to make things easier, what about yourself? A political body who may be owed something by society, or at least that's what was promised to you when you had that TV show in the 90s, which was on late night on Channel 4 that me and a bunch of other weirdo live art kids stayed up late to watch. Does your success mean you are owed something? What if you feel like your success hasn't provided the value you deserve?
In the face of it all, David Hoyle brings a communion together. A communion of devotees of the Divine David who are present in spite of it all.
Finding worth in such a tumultuous time is exhausting. What should you be recognised for? What can you bring to the sermon?
David Hoyle is not staying in a luxury condo in LA. David should be. It's David Hoyle. But because of it all, they aren't. Everyone in The Citadel on a rainy Saturday night in St Helens should be staying in luxury condos in LA, but they aren't.
This is the latest show from David Hoyle. It places him behind a lectern, dressed in an outfit that is covered entirely in plush rats. David shares his thoughts through the horrors of living, both in a domestic sense and in the wider political society, and draws parallels between the two. The rats that infest his housing association flat, leeching off the corpses of each other, feeling oddly reminiscent of the current prime ministerial hot potato. There's a sweet irony in Ten Commandments. David places himself as the grand author of these commandments whilst I'm so unworthy creeps into his mind time and time again.
It's a sermon presented in David's usual wit and charm, with each section accompanied by a video. Sometimes it's rats eating each other, sometimes David hosting QVC style, selling us nuclear warheads, a useful purchase in these times. David is an icon of variety performances and this show is a testament to that.
As the show draws to its conclusion, David gives us space to think about what commandment we would prescribe. As a group, we think. Ideas are thrown around and we decide on an amalgamation of two commandments which, sadly, dear reader, I didn't make a note of because I was enjoying the show too much. We then sing 'United We Stand' by Brotherhood of Man. Our individual value is transformed into collective value. We aren't sitting in silence together. We're filling spaces with our voices. Something which feels more powerful.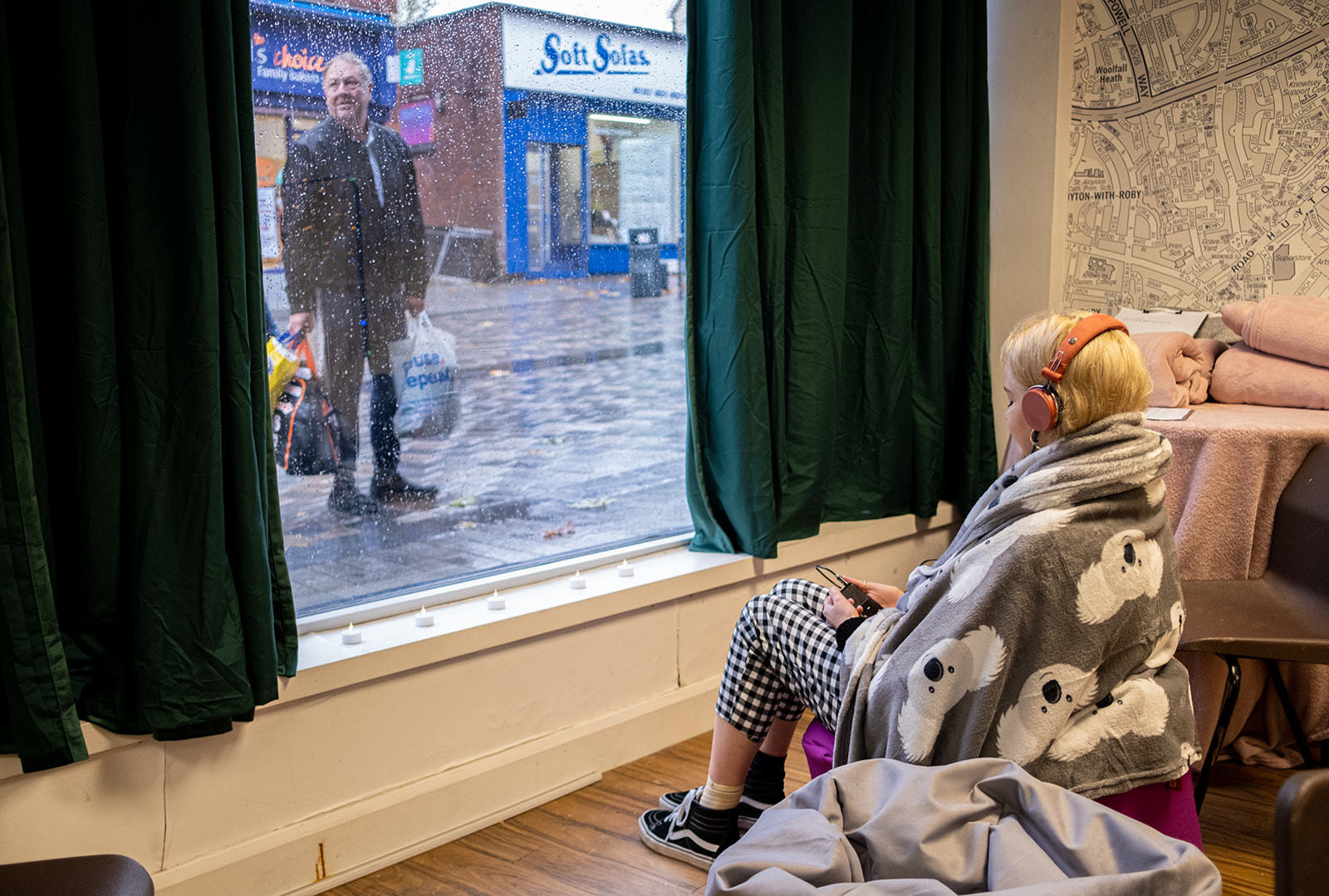 The Cloakroom (2018 – ongoing) by Jenny Gaskell
Saturday 5th November, Prescot High Street
Jenny Gaskell is an artist who makes performances and participatory art. The Cloakroom is a pop up installation environment, where audiences are invited to check in and drop off any unhelpful emotional baggage.
Before walking into The Cloakroom my feet slip a little under the wet paving stones. Although I enjoy the long bus route that takes me to Prescot, it's all just a bit miserable. I'm wet, tired and my feet are slipping away from me.
'It's you!'
A group of sparkly-clad people greet me like a well-known face. I'm no longer just a random person walking the high street, I've stepped onto a stage and straight into the spotlight. Oh yeah, I guess it is me.
As I'm asked about my day, Jenny (the artist behind The Cloakroom) rubs my back with a brush, dusting off the long journey. I tell her that I'm a bit… well, the only way to describe it would be 'bleuargh'. Just a noise. My feelings aren't really worthy of speaking out loud – it's all a bit minor.
I'm escorted to a bean bag where I'm asked if I need a brew and a bit of a sit. I'm offered a fluffy pink blanket, given a playlist to choose a song from. I haven't stopped in a while. In meetings where I'm trying to express that maybe I'm close to burning out, words of, 'well it's that time of year' are given. I haven't had the chance to just sit and be with myself in a while. Out of the songs I choose Enya's 'Orinoco Flow' and watch the rain batter a statue of a lizard through a window. I'm sitting. No thoughts. Just sitting. It's nice.
Once I've had this moment to myself I'm asked if I'm angry. It's hard to say yes because I've just sat for ten minutes relaxing, so I make something up. I don't know why. Maybe I don't want to let down the people who were so warm to me earlier, or maybe the relaxation station I previously sat at did such an effective job. I'm offered a mallet and a pillow and told to go to town. I'm a bit tentative with my smacks at first because, well, I'm not actually feeling any rage at the moment, just an empty brain with 'sail away sail away sail away' ringing in my thoughts.
After, I'm asked if I'd like to celebrate. I'm not feeling particularly celebratory. I mention this and they reassure me that that's okay. They offer to celebrate me instead. I'm offered a glass of something sparkling and a McVities Gold Bar.
Looking back on it, and having thought about just sitting and staring out of a window, if I was asked what I would want to celebrate again I'd say that moment. That moment where I was able to just focus on myself, move away from being a background character in the larger world around me, and just sit and be by myself with myself, encouraged by the tenderness of others.
'It's you!'
Oh yeah, I guess it is.
'And this is what you may need right now.'
Oh yeah. It is.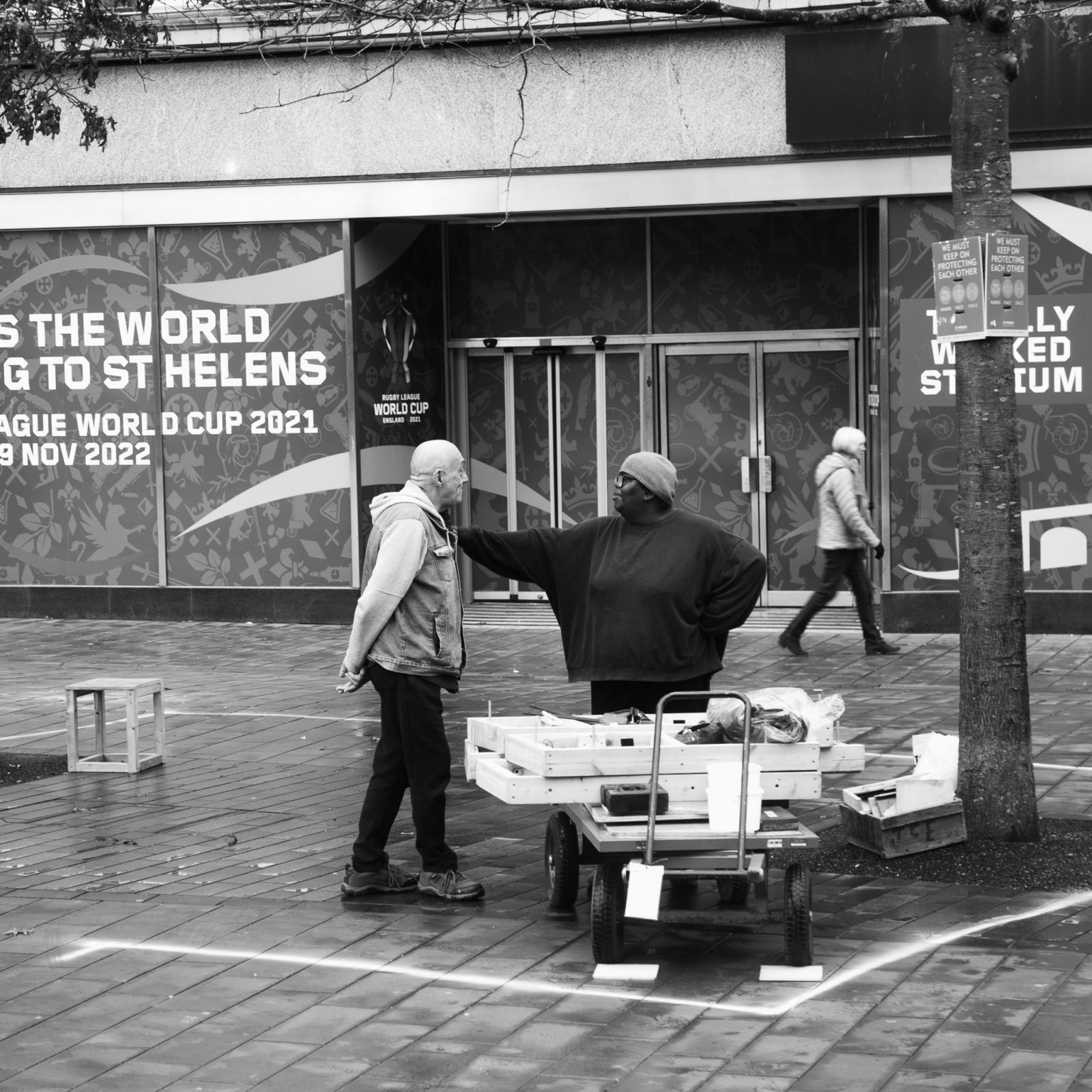 I Am From Reykjavik (2021 – ongoing) by Sonia Hughes
Saturday 5th November, Church Square, St Helens
Sonia Hughes is an artist, writer and performer. Part protest, part sculpture, part ceremony, I Am From Reykjavik is Sonia Hughes' attempt to be a post-racial, global citizen, inviting audiences to watch or to join in her durational performance.
Full disclosure. This is the second time I've seen this piece. On an arbitrary end-of-year list that I made, because I'm a sucker for an end-of-year list, I mentioned this piece and how much I loved it. The fact this show was just a short bus journey from my house filled me with so much excitement. So I'm going into this review with an absolute bias – my judgement is very much clouded.
Seeing this again made me love it more.
With this piece, Hughes is seeing if she can make a home anywhere by building a structure in a public space. Watching the construction and all the happy little incidents that happen around the show is such a gorgeous exploration of that idea. There are moments when people come up to the artist and ask what she's doing, offering a hand or something warm to drink or offering gifts. It creates a neighbourly feel to the whole thing. There are two women who come out from a nearby Card Factory when Sonia has finished building her temporary home. They ask how her day has been and offer congratulations for completing the build. In chatting, I find out that these women started their shift when Hughes started. Here are neighbours popping their heads over the fence and asking about your day. The high street turned into a neighbourhood.
There's such beautiful synchronicity to this piece where happy little design accidents happen. A piece about home where someone builds a temporary structure, whilst an advert for the Rugby League World Cup with the slogan 'St Helens welcomes the world' sits in the background. A left over sign from restrictions that were in place during the pandemic which says 'we're all in this together' floats above two people passing Sonia the nuts and bolts she needs to help construct a roof.
As I'm leaving, Motorhead's 'Ace of Spades' plays on a speaker Hughes has set up. She turns and says 'Hey! Josh, this one for you!' and starts playing air guitar. Earlier in the day we'd talked about metal music and how much I like it. Hughes was being a neighbour to me in that moment too. 'Hey, you mentioned that you like this thing, so here is this thing.' I wave goodbye as golden skies paint St Helens, Lemmy croons and Hughes rocks out. It's the bowl of sugar you offer next door.
I love this piece.
This review is supported by Heart of Glass. Josh Coates is a Liverpool based theatre maker.